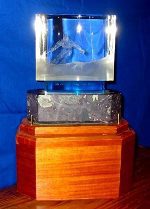 The Trophy
The original overall trophy is on display at Holderness School.
Individual race trophies are designed and created by Pepi Herrmann Crystal in Guilford, NH. The race trophies are individually etched with an image of M.J. in racing form.
MJ's Race
MJ's Race is an all day event which in 2014 will have a new look. This year the race will be held at a NEW LOCATION -- CANNON MOUNTAIN . MJ's Race is made possible by the combined efforts of many people and is a great day of camaraderie and excitement as families and children enjoy ski racing and the outdoors together.
A sanctioned USSA ski race. Typically a GS format with an occasional Slalom course if the snow conditions that year prohibit the GS.
Open to J-I's, J-II's, second-year J-III's and Seniors. US Ski Team members and many top college racers turn out for the event each year, helping out the younger racers by "giving away their points". It has always been a superb penalty point race for new and up-coming racers.
The finish line, surrounded by banners of the generous sponsors as well as supportive fans, is the scene of reunions as many former racers and friends are also on the hill for the love of "M.J." and NH ski-racing.
The tent at the finish line is filled with goodies, all donated to the cause and available to racers and friends. With food and goodies from Welch's Juices, Dunkin' Donuts, BayGull Bagels, Champlain Chocolates, Subway's 6 foot subs, Stoneyfield yogurts, apples, baked goods, cocoa, coffee, Powerade and more...there is definitely something for everyone!!
It is impossible to list everyone we need to thank, but in the spirit of MJ's race, it is hoped that all those who have done so much and given so generously year after year realize the importance of their gifts. We Thank You, from the bottom of our hearts for keeping MJ's spirit alive and continuing his "work" benefiting others.